There are so much conflicting thoughts on what to eat and the foods to avoid. Confused? Solid nutritional information will be given and suggestions to keep you on track. We ask you to keep a three-day food log and bring it to your first appointment. Being honest and recording everything you eat and drink will bring the most benefit to you. There are natural laws of nature that will help you to take advantage of all that nature freely provides for our health. We will cover lifestyle topics of nutrition, hydration, detoxification, rest, faith, exercise/oxygen and sunshine/outdoors. We come at these topics from a naturopathic perspective where the body heals itself and right living is the best prevention. Implementing lifestyle changes provides the body the energy necessary to heal itself. We are in Opelika/Auburn area of greater Lee County so call for your nutritional consultation today at (334) 734-2909.
Nutritional Consultation
45 minutes
$65.00
Foundation Appointment
Before Scan
Complimentary book
"The Transformation"
Initial Wellness Package
1 1/2 hours      $130.00
BodyScan Bionetic Balancing Scan
Food Sensitivity Testing
Biocompatible Supplementation Testing
Individualized Homeopathic & Bach Flower Remedies
Cold Laser Therapy Ears
Ionic Detox Foot Bath ($40 value)
WHAT IS BIOENERGETIC TESTING
WITH A SPECTRAVISION SCAN
Our Bioenergetic Counseling appointment starts with assessing your health history, which includes past concerns, present discomforts and desired health goals.
Spectravision Technology is unique to Lee County in the state of Alabama. The technology allows us to communicate with the body, eavesdropping in on the body's energy system thru Non-cognitive Bionetic Feedback. Science supports the fact that everything has energy, as our bodies are electrical and magnetic in nature. Everyone and everything has energy and a unique vibration understood thru the principals of quantum physics. We can see how the body reacts to various signals for substances like vitamins, minerals, cell salts, flower essences and herbs, etc. The software can "read" how your body reacts and "see" your actual stress picture. Don't worry! The scan is non-invasive, comprehensive and painless. We can see disruptors in energy flow or imbalances. We can isolate things you are not aware of while eliminating toxins, assessing nutrition and emotional stress levels. For a comprehensive wellness plan you want to identify where the body can be optimized.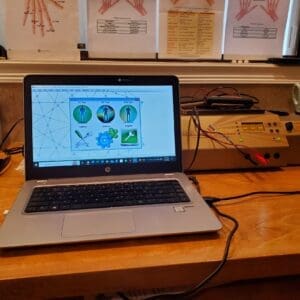 STRESS AND ITS IMPACT
The Bionetics Stress Assessment covers both background stress and perceived stress. Background stress that we are unaware of, uses up the bodies vital resources within us (vitamins, minerals and nutrition). Actual stress that we are aware of causes the fight or flight response and activates the nervous system releasing chemicals that can become toxic, if not eliminated. The mind, body and spirit are affected. Unless we can understand the stress demand including both these areas, we can't promote our health. With high stress, we often make bad decisions such as poor food choices, neglecting exercise and focusing on worry. By discovering why your body is reacting, the counselor can help determine the best multi-dimensional solution of the body, mind and spirit so that the body can get back in balance.
BALANCING THE BODY
During the Bioenergetic testing, the counselor will determine the biocompatible supplementation to help bring the body into balance, energetically. Included in this testing are bach flower essences, cell salts and homeopathic remedies and food sensitivities etc. After the scan, low light laser therapy will be applied to both of your ears where the light penetrates thru the skin. These photons are absorbed in the cells and increases cellular energy. This is referred to as bio-stimulation with many benefits. After the LLLT, you will receive a complimentary detox footbath which is explained in the Services section.
We are proud to provide this unique Bioenergetic Balancing to Lee County and beyond as we get to know you and take the time to understand what you hope to accomplish on your health journey. Please contact us at Integrated Body Health in Opelika/Auburn by calling us at (334) 734-2909. We will be happy to answer any questions you might have.